STEP 1: Apply for Screening Appointment:
Complete an online application to attend a PFA screening form on the district website, see link below.
The parent coordinator will call families with completed applications to schedule a screening when there are open appointments.

Appointments will be scheduled based on availability.
Screenings are conducted throughout the year
STEP 2: Requirement to attend screening:
After parents are provided with a screening date and time, parents need to:
Complete online registration for a new student on the district website: https://www.maywood89.org/student-registration
Bring below documentation into the home school (schedule appointment preferred):
Three [3] proofs of residency in District 89 and proof of family income
School physical exams/proof of immunizations is required. All new students must also have Lead and TB test with results.
Original Birth Certificates are required for all new students.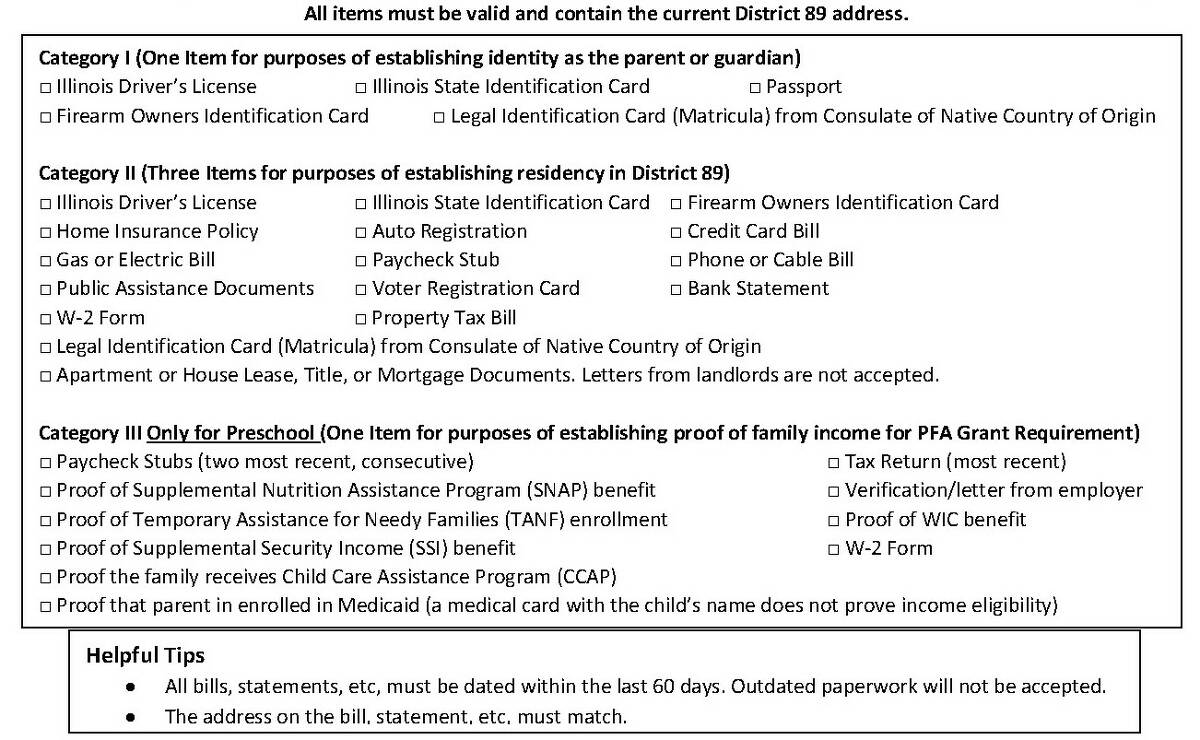 STEP 3: The Preschool Screening:
PLEASE BRING THE FOLLOWING:
Your child / Our future student
Proof of Family Income (must select one option below):

NAP, TANF, WIC, Medicaid, CCAP
Proof of WIC benefit, SNAP, TANF, SSI, CCAP
Tax return (most recent)
Wages and tax statement (most recent W-2)
Verification/letter from employer
Proof that parent is enrolled in Medicaid (a medical card with the child's name does not prove income eligibility)
DURING THE SCREENING:
Your child will complete play-based assessments with our team.
You will complete a parental questionnaire and interview with our team.
Our team gathers information based on the Preschool For All Grant requirements.
STEP 4: After the Preschool Screening:
Your child will be placed on the waiting list.
Our team will contact you via phone to inform you when your child has been accepted into the Preschool For All Program. Families we are unable to connect with will receive a letter requesting them to contact us by a specific date for further details.
We will confirm all registration requirements have been completed at the school and you will be contacted by the school staff to schedule a meet and greet with the teacher.
If you have any questions please call the Early Childhood Department:
English 708-209-0276
Spanish 708-450-2460 x1153
Attending a screening does not guarantee placement into the Preschool For All program as there is a waiting list.