I will be trying to contact parents of all my students during the first couple of weeks of class. If your child is in my class and you haven't heard from me yet, please email me at the address above and let me know the best way to reach you.
Anime Club
Anime Club meets every Thursday from 2:45 to 3:45. If I haven't already given you a permission slip, club is full for the space we have available. E-mail me to ask about the waiting list!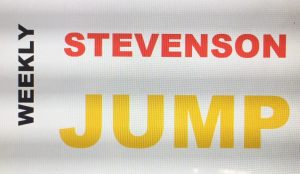 This is our website for drawings, manga, and writing created by our club members.
Some of the older material is also up here:
DO YOU FOLLOW OUR WEBSITE?
We'd love to know what you think. E-mail me your comments at [email protected], and I'll post them in the next issue.
ANIME CLUB IS BACK!
(We started up again January 10.)
Coming Up!
Here's a list of our club members and what they're working on. Check back every week to see what new material we're posting.
Perla A. will be contributing drawings of her own characters, in the September 20 and October 11, 18, and 25th issues.
Isis B. had her very first drawing posted October 18 issue! A new one is up January 10 and Feb. 7 and 21!
Trinity C. is going to be interviewing club members about all things manga-related, and there is one in the Sept. 27 issue. She's also got a new character Super Nugget, appearing October 11 and November 8 and January 24 and Feb 28.
Santos E. has a Tokyo Ghoul drawing in the Sept. 27 issue.
Christian F. has some work posted September 20 and is working on a manga called "Dark Shadow"! See the first chapter November 1! (Some characters were previewed in the Oct. 4 and 18 issues.) And there's a special Halloween manga posted November 8 and another whole new manga Jan. 17! He has some new work up January 24, Feb. 7, and 14 and Feb 28.
Estefania F. has drawings October 11 and November 8. She's got something new for you Jan. 24 and March 7 and this week.
Maritza G. is going to be debuting some manga pretty soon. (Untitled thus far.) But we've got a look at one of her characters in the Oct. 4 issue and other drawings  January 10 and Feb. 21 and Feb 28 and this week.
Charlie G. and Deisy R. are collaborating on a manga: "Baka Taco Crew"!  Both have drawings posted October 11! And Deisy has one October 25 and November 1. See a character profile (Forest Child) they've drawn up November 8! There was another contribution from each Jan. 17. Charlie has something March 7 and this week, and Deisy has something up Jan. 24, Feb. 7, 14, 21, 28, March 7, and Mar 14.
Alexa I. has some work posted January 10 and in the September 20 and 27 and Oct. 4, 11, and 18 issues! She's working on a new character called "Apolygon."
Giselle M. has been working on some of her own characters, and we've got a pic of one October 4 and October 25 and November 8 and Jan. 24 and Feb. 14 and March 7.
Antonio M. has a pic of Slenderman Oct 18. Coming up soon: a pic of Sans from the game "Undertale."
Denise is working on a pic of a character from Silent Voice. See her take on Naruto October 4 and a pic Oct. 18, and some new stuff November 1, Jan. 17 and 24, Feb 21, 28, and March 7!
Adrian R. has three new pictures Oct. 18. He's got a new one up Feb. 7! He's got some origami March 7.
Maritza R. has some club member interviews coming. Oct. 18 it's Martiza vs. Maritza. Jan. 24 she talks to Trinity about the phenomenon that is Super Nugget. And Feb. 7, she gets inside the mind of Jayla.
Benjamin R. finally has that alien he's been promising, posted October 4. There's another work in progress we get a peek at November 8. And Jan. 24, it's Dragon Ball Pig. He's got Shaggy Feb 28!
Anthony U. has some work posted Sept. 20, Oct. 11 and 18, and November 1, and is working on a new manga now! (He told me it had something to do with Burger King.) His take on Naruto is up Jan. 17 with more new stuff Jan. 24 and Feb. 7, 28, March 7, and Mar 14.
Destiny has a drawing of One-Punch Man in the Sept. 27 issue and some new stuff January 10 and 24 and Feb. 7.
Jayla W. has a club member survey posted October 25 and drawings in the September 20 and 27 and Oct. 4, 11, and 18 issues, November 1 and 8, and January 10 and 24, Feb. 7, 14, 21 and 28 and Mar 14!
Noe has an awesome drawing of Goku posted October 4. He's got Naruto October 25!
Abbey B. has a new drawing October 11!
Samatha S. made her debut with some Kiss Him Not Me fan fic October 25! Next up: She's working on a story about The Disastrous Life of Saiki K. She's got some KPOP fan-fic March 7.
Mariah makes her debut on the site this week!
Thursday April 4, 2019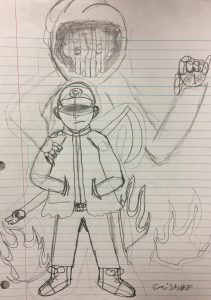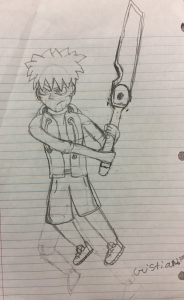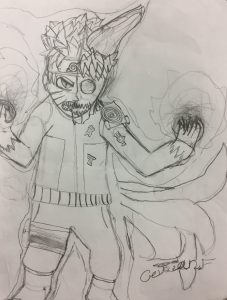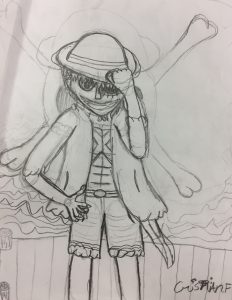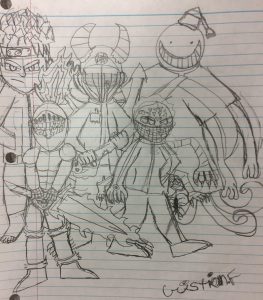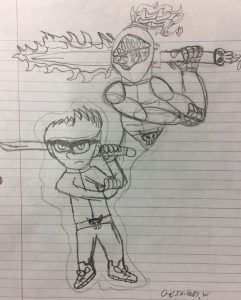 Cristian brought in a TON this week!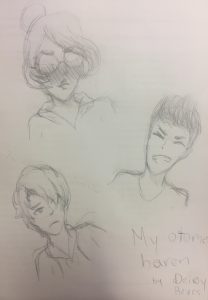 Deisy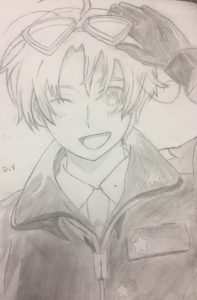 Denise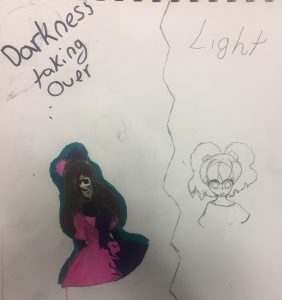 Jayla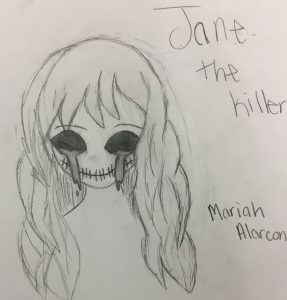 Mariah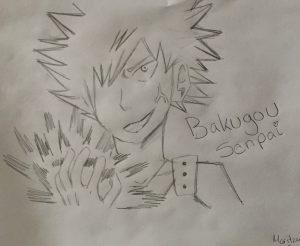 Maritza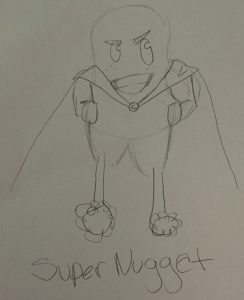 "Trinity"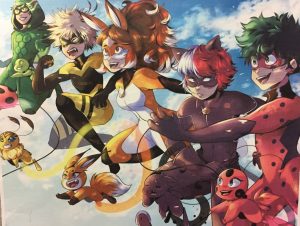 Someone brought in a cool meme they found!
Thursday March 28, 2019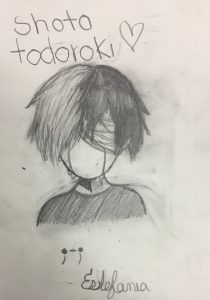 Estefania drew this great pic of Todoroki.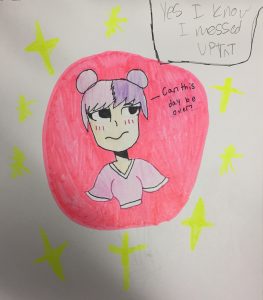 Honorary member Ana had this pic submitted via someone in the club.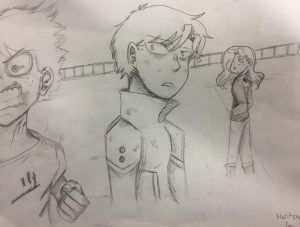 Maritza G with another great submission.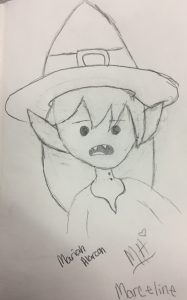 Mariah gives us her take on Marceline from Adventure Time.
Thursday March 14, 2019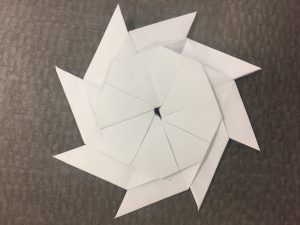 Nelson's origami skills are growing every week. Can't wait to see what he tries next.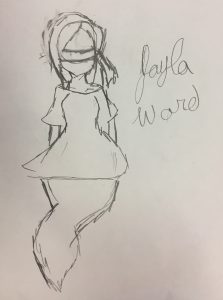 Jayla adds another to her roster of wonderful characters.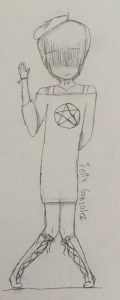 Felix makes his anime club debut with this witchy creation!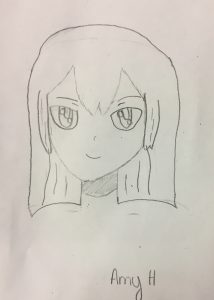 Amy makes her debut this week as well.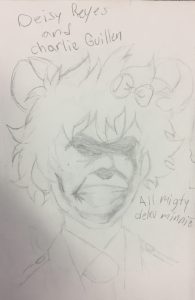 The dynamic duo Charlie and Deisy with some MHA-inspired fun.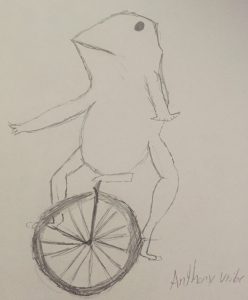 Anthony U gives us his take on a meme you may have seen.
Thursday March 7, 2019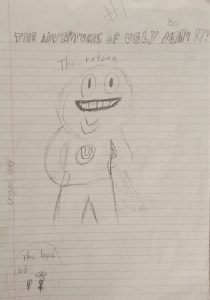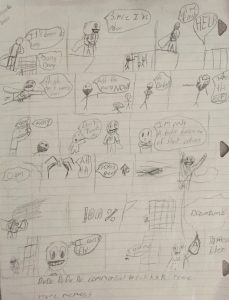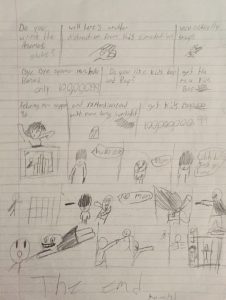 Anthony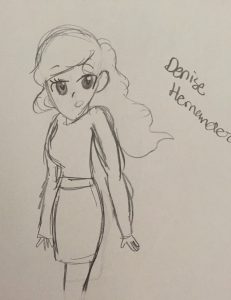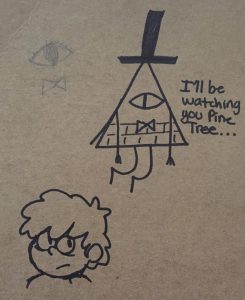 Denise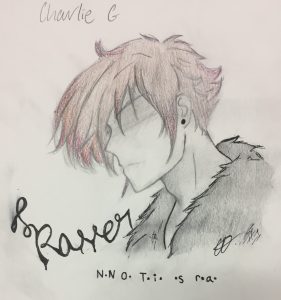 Charlie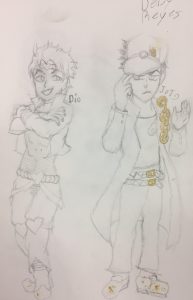 Deisy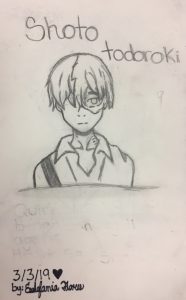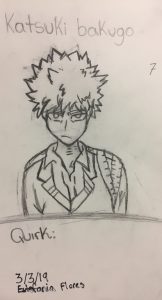 Estefania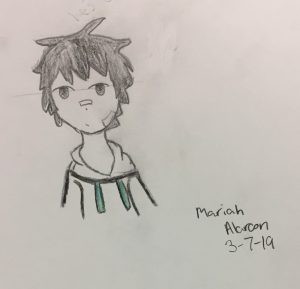 Mariah
Nelson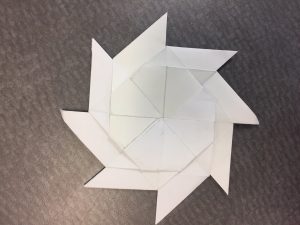 Adrian
Thursday February 28, 2019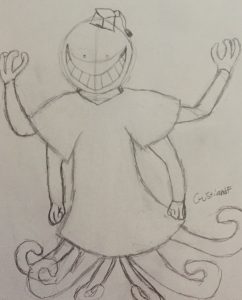 Another Assassination Classroom character this week, this time from Cristian.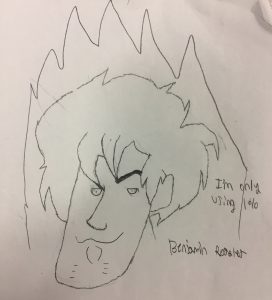 Benjamin draws the all-powerful Shaggy! Tremble before his might.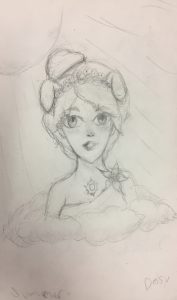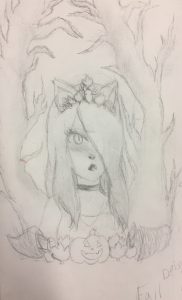 Deisy completes her seasonal series with summer and fall.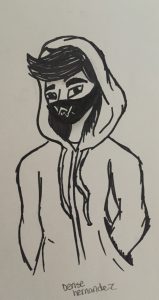 Denise drew DJ Alan Walker!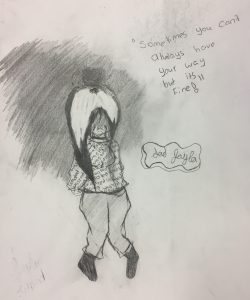 I love how Jayla incorporates text as a visual element.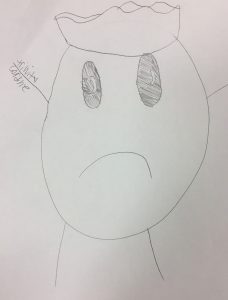 Trinity introduces a new character to the canon, Super Nugget's dad, King Nugget!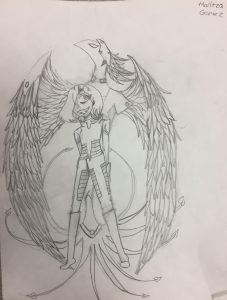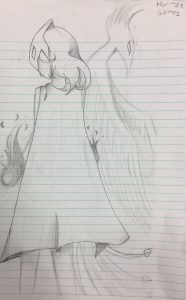 Terrific work as always from Maritza G.
Thursday February 21, 2019
Deisy drew the "Summer" installment of her seasons series, but the file became corrupted and the pic I took won't load. I'll see if I can get this fixed somehow.

Denise is back with some more great art!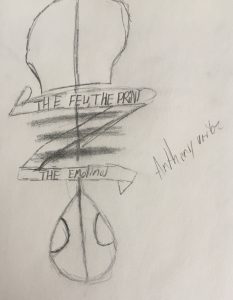 Anthony has more from one of his favorite bands, 21 Pilots.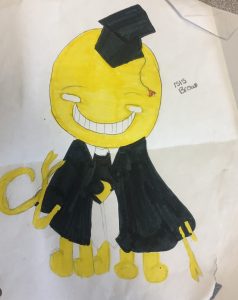 Isis has one you might recognize from Assassination Classroom.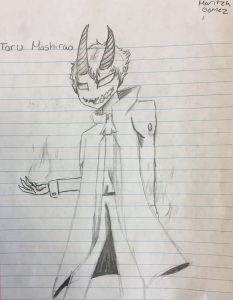 Maritza G has been really productive lately. This looks great, and I saw some great work that might be ready for next week.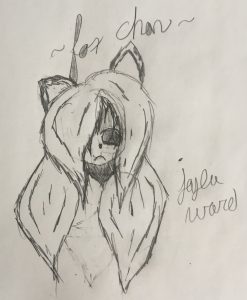 This fox girl is brought to you by Jayla!
Thursday February 14, 2019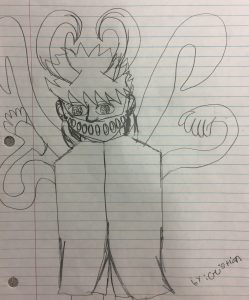 Cristian calls this one "shadow demon."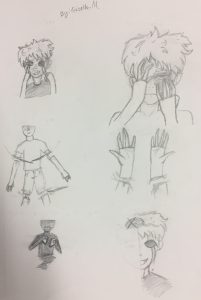 Gisella's inspiration for this one comes from the song "Body" by indie rockers Mother Mother.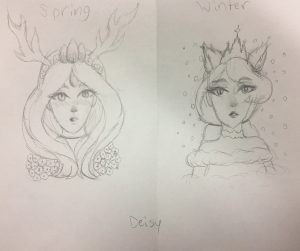 Deisy has a seasonally appropriate offering this week!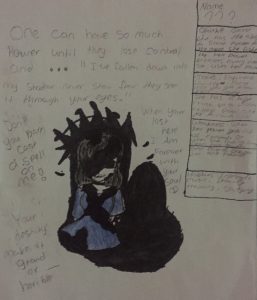 Jayla's got one from MHA. It's a girl who's dead inside.
Thursday February 7, 2019 issue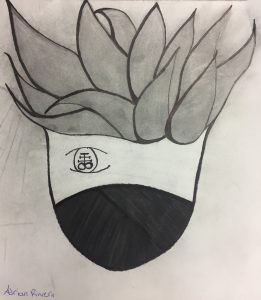 The wait is over! Adrian has a new piece up this week.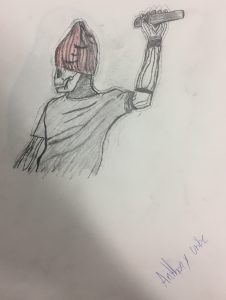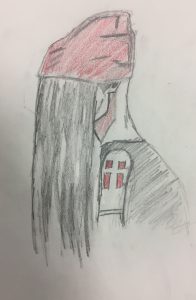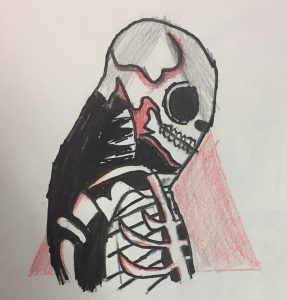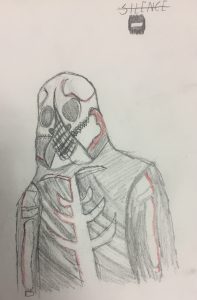 All the above are from Anthony U. It's an original character: A singer, and these are his costumes. I believe the pic below is Anthony's as well.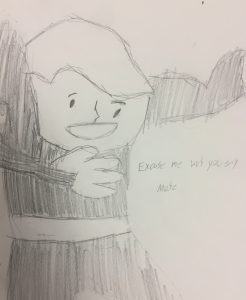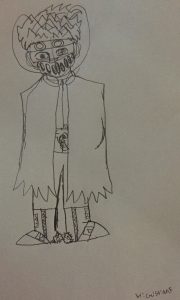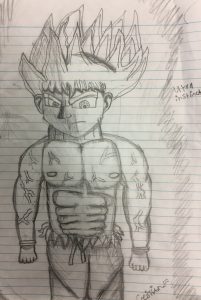 A couple from Cristian. This first fella is an original character. He can control people's minds, and his hand can turn into a giant gun.
Maritza R:  What is your favorite anime and why?
Jayla: My Hero Academia because it's a very good anime.
Maritza R: Did your favorite anime inspire your work?
Jayla: Yes because they have the best boys.
Maritza R:  Do you plan on basing anything on any known anime?
Jayla: Yes boii! MHA.
Maritza R:  Are you happy about what you've made, or do you think you can do better?
Jayla: I'll know I've done better once I'm better than Alexa.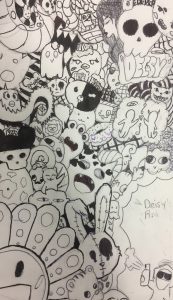 We love this jam-packed illustration from Deisy.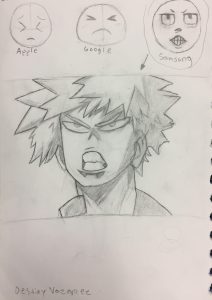 Great take on Bakugo from Destiny.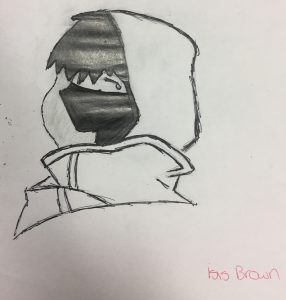 Isis has another entry in her face-mask series.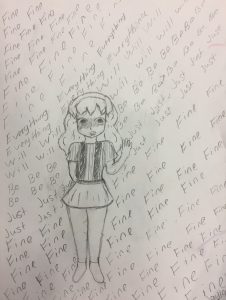 Jayla's character is a nervous comedian, reassuring herself everything will be fine.
Thursday January 24, 2019 issue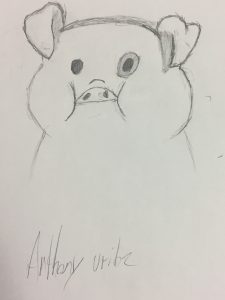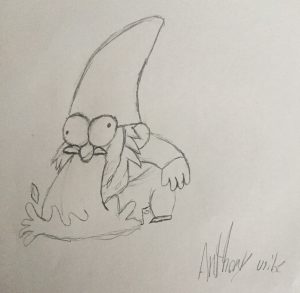 Anthony U gives us a pig and a gnome who seems to not be feeling too well.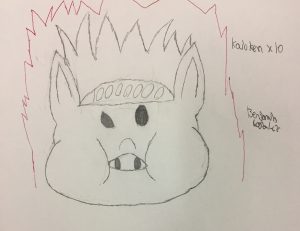 Watch out Benjamin, this pig's gone kaioken x 10!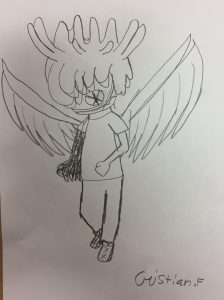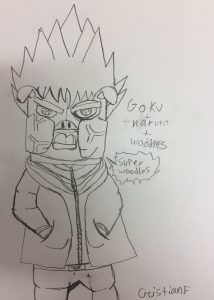 Some new ones from Cristian. I sense a pig theme this week.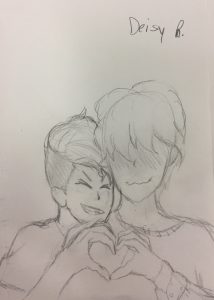 Deisy is getting us ready for Valentine's Day.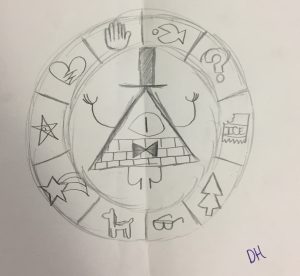 Denise reminds us that the Illuminati controls our ice, goldfish, and Christmas trees.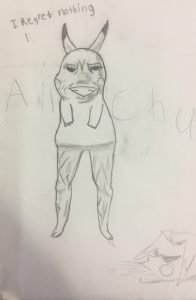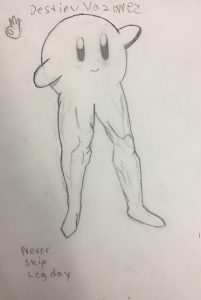 Thanks, Destiny. I think that Pikachu will be appearing in my nightmares tonight.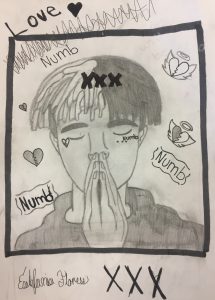 Love this one from Estefania.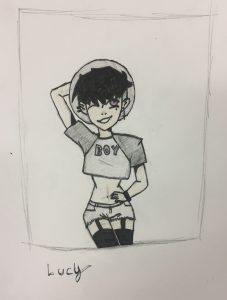 Not sure who did this… maybe Estefania or Gisella?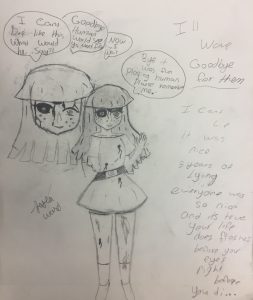 I love the interplay between image and text in so much of Jayla's work.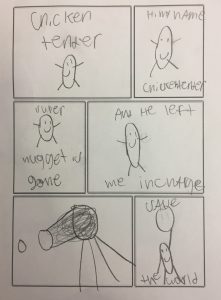 Trinity's Super Nugget universe is expanding! While our delicious hero is off saving the galaxy, Chicken Tender steps up to save us all.
Thursday January 17, 2019 issue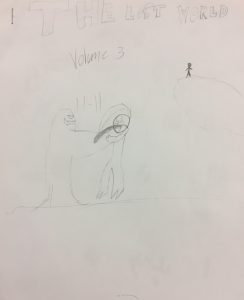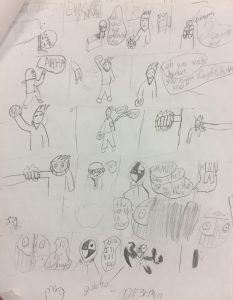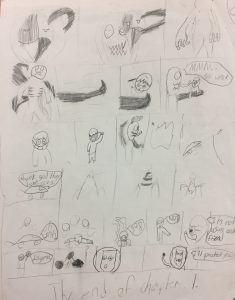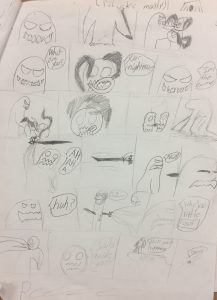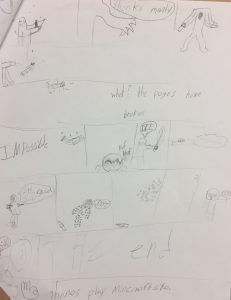 Cristian turned in not only the entire manga story above ("The Lost World Vol. 3"), but also the pic right below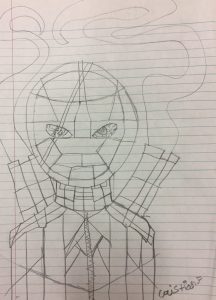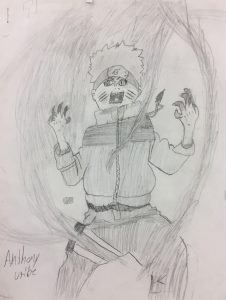 Anthony U drew a pretty cool pic of Naruto.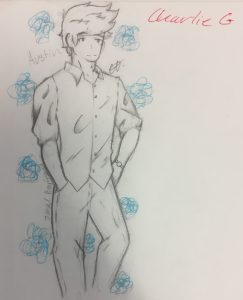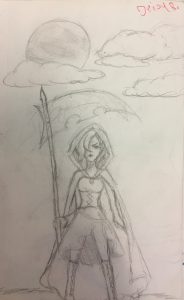 The dynamic duo of Charlie and Deisy are back with new material this week.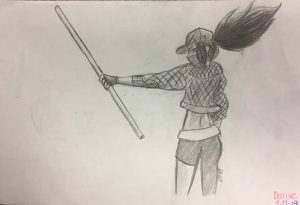 Denise definitely gave us the drawing above, and I think she's also responsible for the two below, though I'm not sure.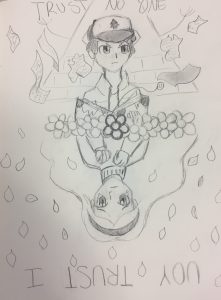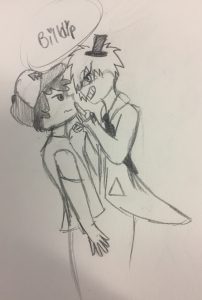 Thursday January 10, 2019 issue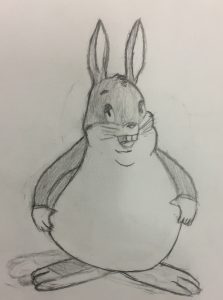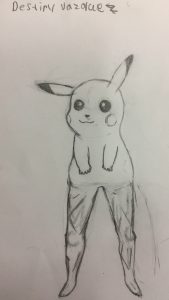 Destiny is back with some new work. She's got a chunky rabbit and a muscular Pikachu.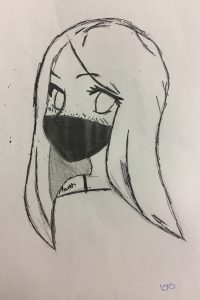 After a long wait, Isis has a new drawing, and it's a great one!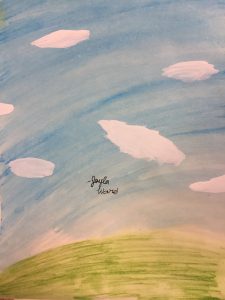 Jayla has a painting this time around.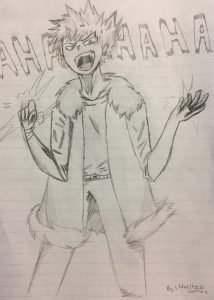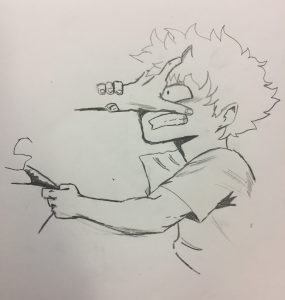 Maritza G has one finished project and one work-in-progress.
Thursday November 8, 2018 issue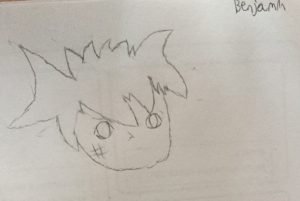 Benjamin is working on a new drawing. Here's a work-in-progress preview.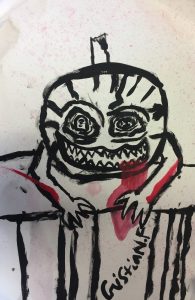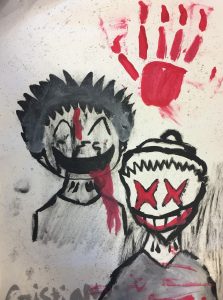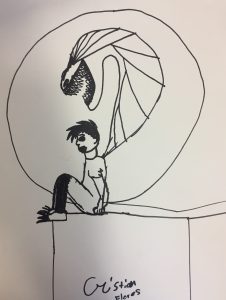 Cristian has been working overtime! The creepy paintings and drawings above, plus an entire Halloween-themed manga below!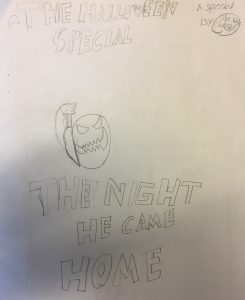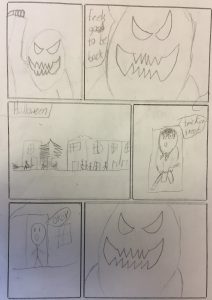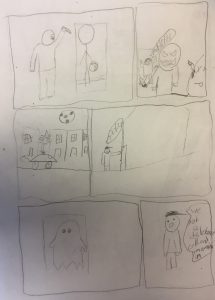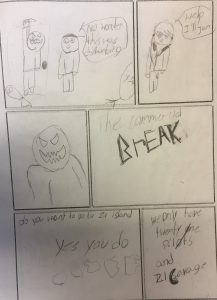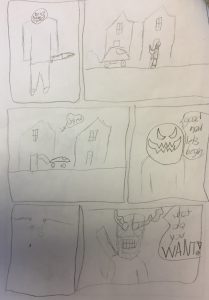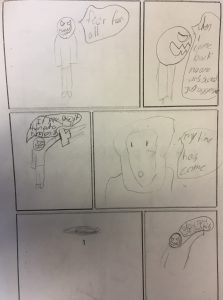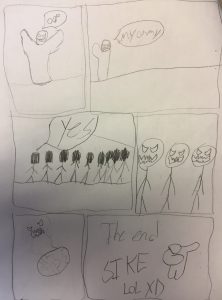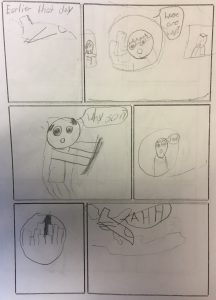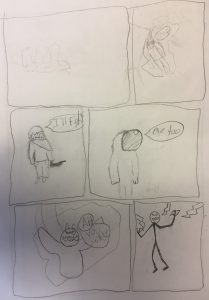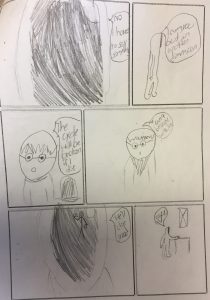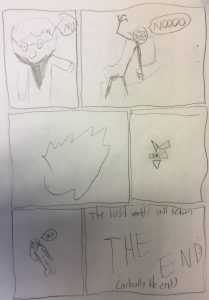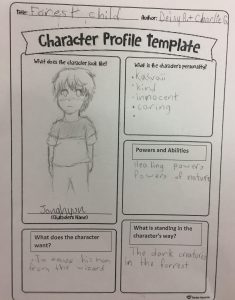 More work from our dynamic duo: Charlie and Deisy. This character is kind, innocent, and has the healing powers of nature.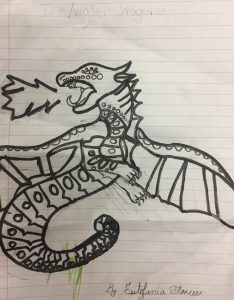 Good to see Estefania's work back in WSJ. Check out this beautifully inked dragon.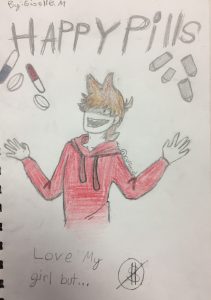 A new drawing by Gisella. Now that I've got a new baby, I think that crossed-out dollar sign is officially my new insignia.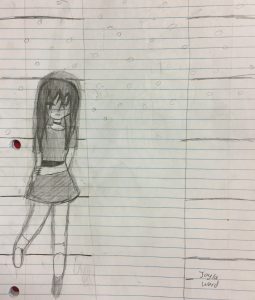 We can always count on Jayla to do great stuff every week.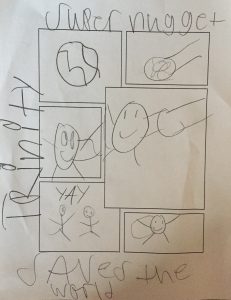 The continuing saga of Super Nugget! What new adventures will Trinity's circular-shaped hero get into next time?
Thursday November 1, 2018 issue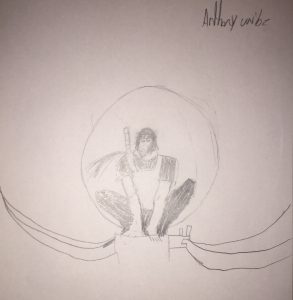 Anthony U has more work to share.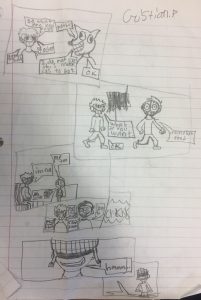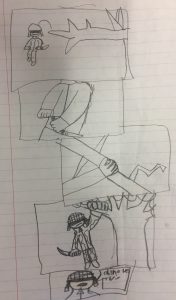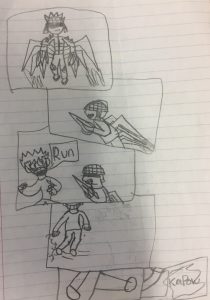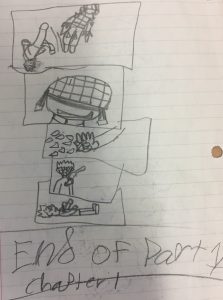 Cristian debuts his new manga this week! Can't wait to see what happens next.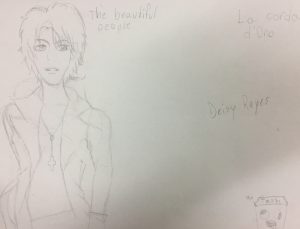 Deisy has a pic of this beautiful person, and his little buddy in the corner.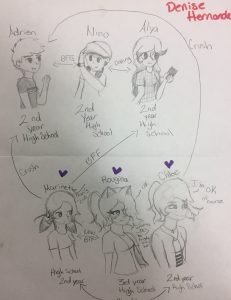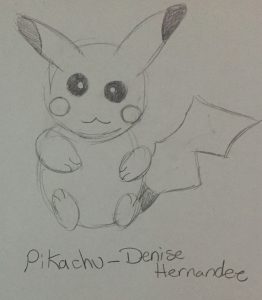 Denise has a pic illustrating the complicated flow charts of high school relationships. Pikachu looks confused by it all.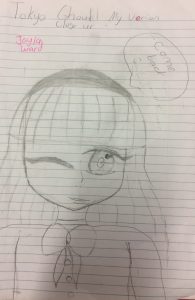 Jayla has a new Tokyo Ghoul piece to show.
Thursday October 25, 2018 issue
Fan Fiction by Samantha S.
Kai and Igarashi were on a friendly date, and they were eating and laughing until… Kae fell onto Igarashi, and it happened by someone pushing her, because Igarashi and Kae were sitting right next to each other!
Then Igarashi's face and Kae's face were SUPER red, but Kae got up and awkwardly said, "Eh, hehe… ummm… so what now? We've been here for two and a half hours! Oh my god, Igarashi! It's 11:43 p.m. I'm sorry, but can you drop me off at my house? Please?"
Igarashi said, "OK, let's go. Cuz I'm in trouble, too."
Igarashi put his hand on his neck, scratching it nervously. Kae walked to Igarashi's car, and Igarashi ran over quickly to open the door, to be a gentleman.
THE END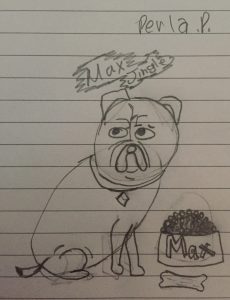 More pretty puppy pics from Perla!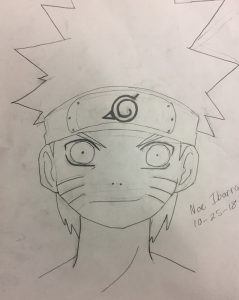 Noe continues his series on some of the most famous characters in anime with this portrait of Naruto.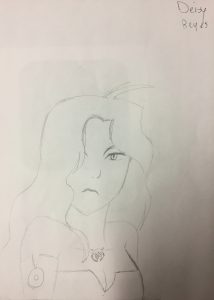 A new character from Daise.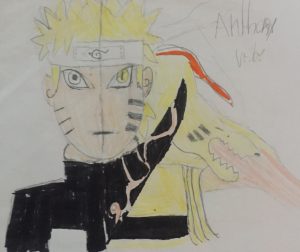 Anthony U. gives us his take on Naruto–this one's in color.\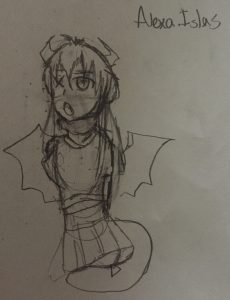 Alexa continues her perfect streak with drawings in every single issue.
Jayla's Club Member Survey!
Today's question… "What is Your Favorite Anime?"
Adrian: The Disastrous Life of Saiki K
Alexa: The Disastrous Life of Saiki K
Samantha: The Disastrous Life of Saiki K
Giselle: Blue Exorcist
Antonio: Angels of Death 
Jayla: Sword Art Online 
Anthony: Seven Deadly Sins
Noe: Seven Deadly Sins
Isis: Tokyo Ghoul
Deisy: Kakeguiri
Trinity: Akame Gakill
Destiny: Blue Exorcist
Maritza R.: Death Note
Cristian: Death Note
Benjamin: Tokyo Ghoul
(Editor's Note: She didn't ask Mr. K, but he would've answered Death Note.)  😉
Thursday October 18, 2018 issue
Maritza R. Interviews Club Member Maritza G.
Q: Who is your main character or characters?
A: Momooko No
Q: What is your writing based off of?
A: My Hero Academia and drama.
Q: Are you enjoying your writing?
A: Yes.
Q: Are you happy and proud of what you made?
A: Yes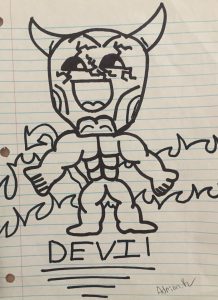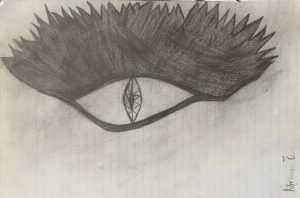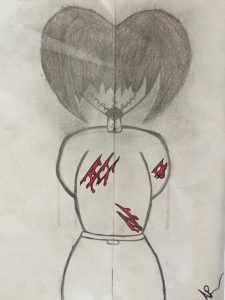 Adrian debuts his first work in WSJ with a triple-post.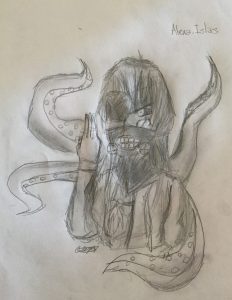 Another new creation from Alexa!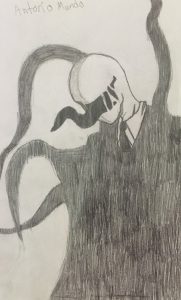 Antonio also makes his first showing here with this pic of Slenderman.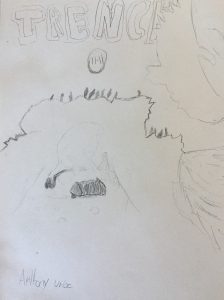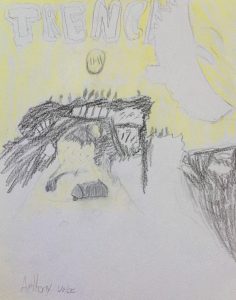 Anthony U. did this 21 Pilots album cover (BW and color versions)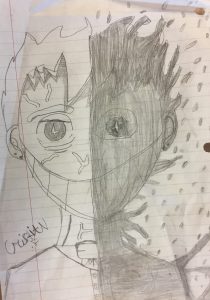 An awesome pic by Cristian! (Rough draft and final)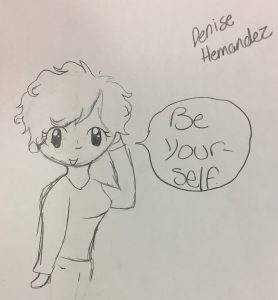 Good advice from Denise's character.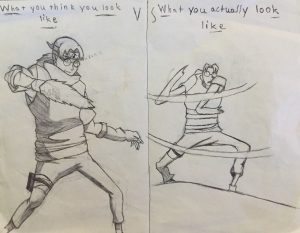 There's no name on this meme, but if I recognize the art style, I'm guessing Destiny. Correct me if I'm wrong!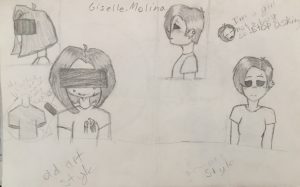 Multi-angled characters from Gisele.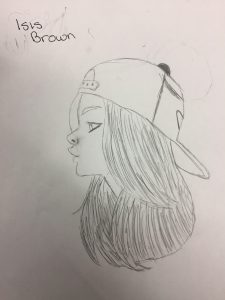 Isis makes her first showing. Great work!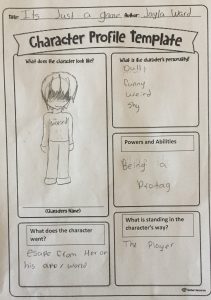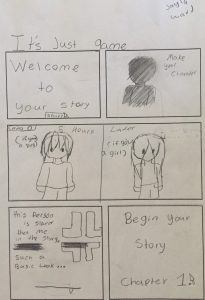 The beginning of Jayla's brand new story "It's Just a Game"!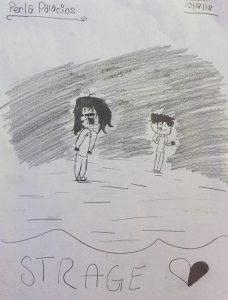 Love these characters by Perla.
Thursday October 11, 2018 issue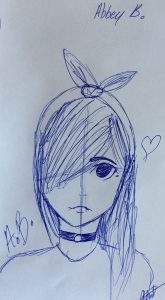 Abbey, with a character of her own design.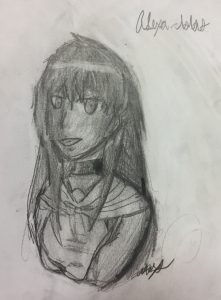 Alexa's drawings get better every week!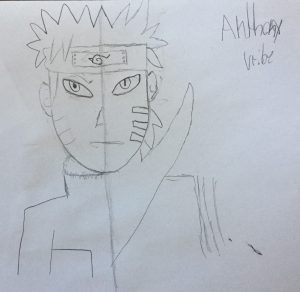 Anthonu U drew this one. Guess who it is…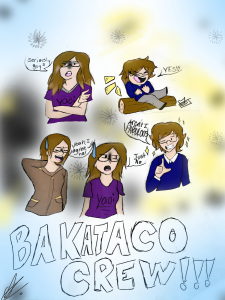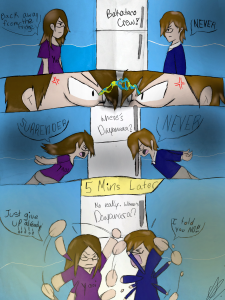 Charlie finally gave us some Bakataco, and is it ever worth the wait!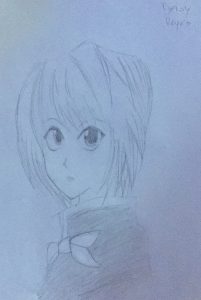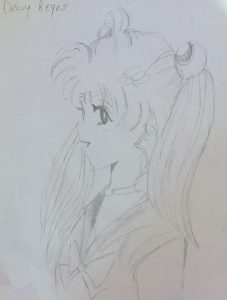 Two new ones from Daise. They look great!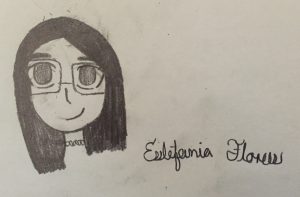 This pic from Estefania has a Mona Lisa smile.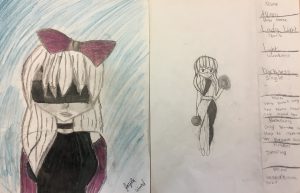 Three new ones from Jayla… two above and one below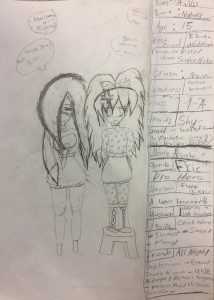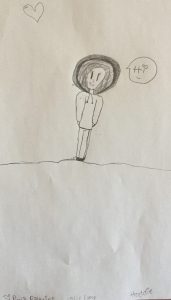 Check out the new character from Perla!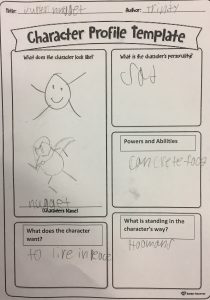 Trinity's character is Nugget. Nugget is sad.
Thursday October 4, 2018 issue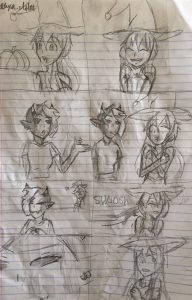 Alexa has some work appropriate for the Halloween season.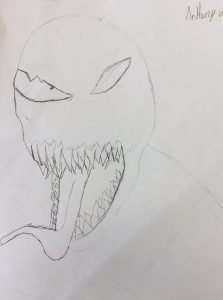 Anthony knows Venom opens wide in theaters tomorrow, and he's got a drawing to celebrate.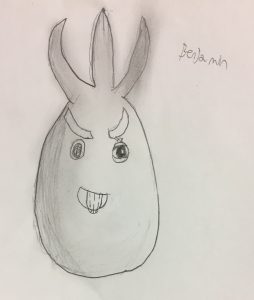 Finally got that alien pic Benjamin promised!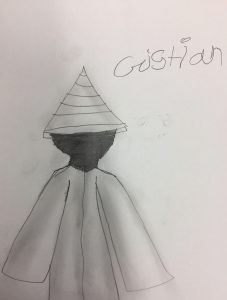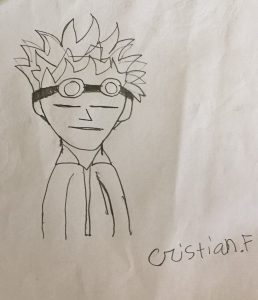 Here's a couple of those characters we told you Cristian has been working on.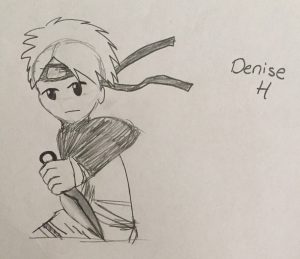 I knew this was Denise's before I even saw the name. Such a distinctive style!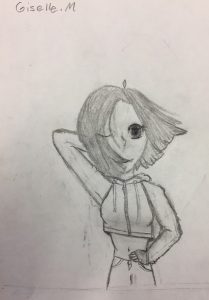 Giselle makes her debut in WSJ with a character she's created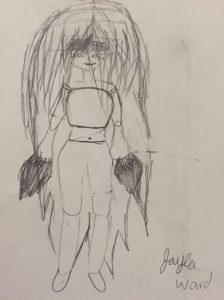 The prolific Jayla strikes again. Three weeks in a row!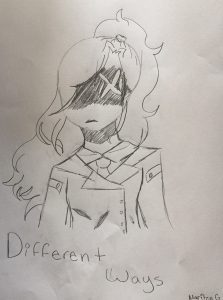 Finally seeing some of Maritza G's characters. This one is fantastic!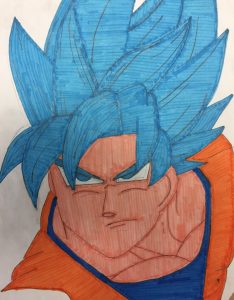 Noe's finalized Goku drawing, in vibrant color!
Thursday September 27, 2018 issue
Trinity Interviews Club Member Destiny
Q: What's your favorite anime?
A: BNHA
Q: What's your favorite anime "ship"?
A: Todomomo. It's cute.
Q: Who's your favorite anime character?
A: Bakugo. He's mad.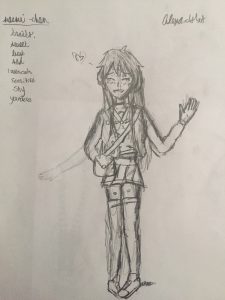 A new original character from Alexa! We can't wait to see what's next.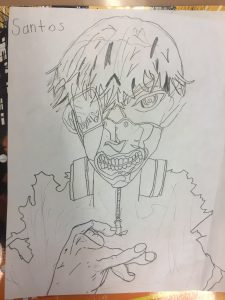 Here's that Tokyo Ghoul drawing Santos has been working at. Looks great!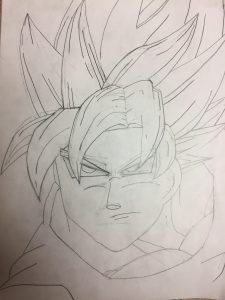 Noe is still planning to color this drawing of Goku, but here's a peek at the in-progress stage.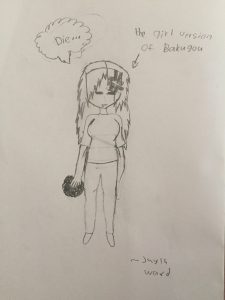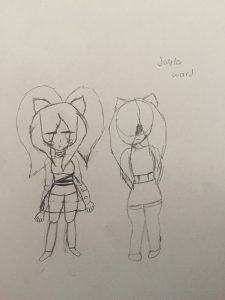 Two new ones from Jayla this week.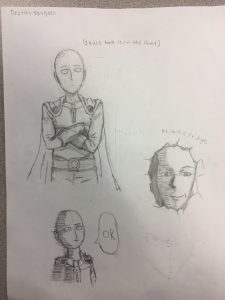 Some fantastic shading on Saitama by Destiny.
Thursday September 20, 2018 issue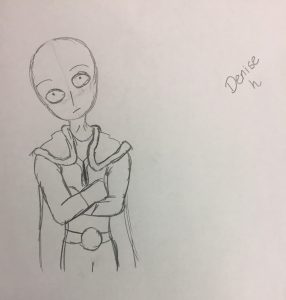 Here's Denise's take on One-Punch Man!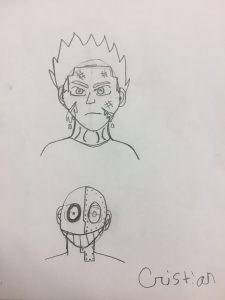 Cristian drew these guys… can't wait to see the whole comic strip!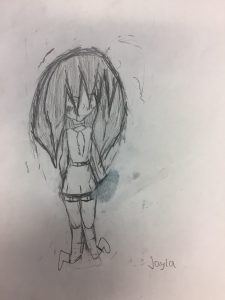 Jayla's been creating her own character. More info on her to come!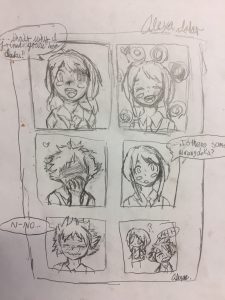 Alexa is going to be producing some BNHA fan fic! Here's a little taste of what's in store.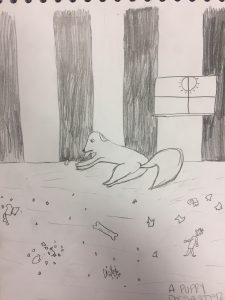 Perla provided this pretty pic: "A Puppy Disaster."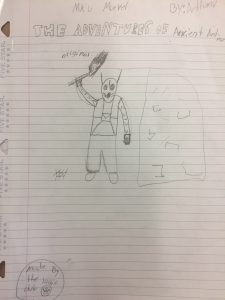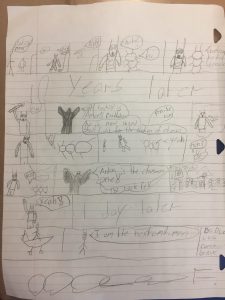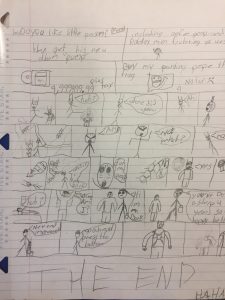 Anthony U. has a full-on complete manga story: "The Adventures of Ancient Ant-Man."
Back to Teacher