Click here for | Spanish (SP)

Parent Information on Standards-Based Grading (SBG)
At School District 89, one of the district's multi-year strategic goals is to utilize Standards-Based Grading practices. In collaboration with educators, the Curriculum Team has developed a student/parent friendly Standards-Based Grading report card. This updated report card includes clearly defined reporting standards aligned to assessments to provide relevant information and help increase student learning.  District 89 started phasing out traditional grades in school year 2020-21, and we are excited to share that SD 89 will be utilizing Standards-Based Grading (SBG) in grades Kindergarten – 7th grade in school year 2023-24.
With SBG, traditional letter grades (A, B, C, D, and F) are replaced with progressive levels, 1 – 4, allowing students and parents track progress toward mastery of key academic concepts, reflect upon strengths and areas of improvement, and identify pathways to deeper learning. The levels do not translate to letter grades. For example, 4 is NOT equivalent to an A, 3 is NOT equivalent to B, 2 is NOT equivalent to a C or D, and a 1 is certainly NOT an F. Instead, levels show progress toward mastery of grade-level standards. The visual below will help better understand SBG.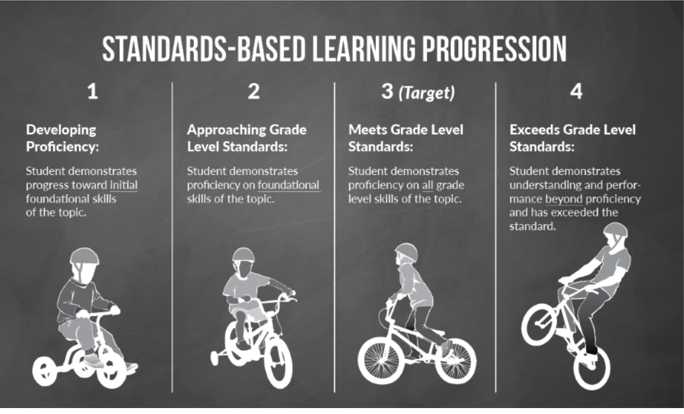 Please see the following documents for grade level reporting standards:
Información para padres sobre calificaciones basadas en estándares (SBG)
En el Distrito Escolar 89, uno de los objetivos estratégicos de varios años del distrito es utilizar prácticas de calificación basadas en estándares. En colaboración con los educadores, el equipo de currículo ha desarrollado una boleta de calificaciones basado en estándares que es fácil de usar para los estudiantes y los padres. Esta boleta de calificaciones actualizada incluye estándares de informes claramente definidos alineados con las evaluaciones para proporcionar información relevante y ayudar a aumentar el aprendizaje de los estudiantes. El Distrito 89 comenzó a eliminar gradualmente las calificaciones tradicionales en el año escolar 2020-21, y nos complace compartir que SD 89 utilizará la calificación basada en estándares (SBG) en los grados de jardín de infantes a séptimo grado en el año escolar 2023-24.
Con SBG, las calificaciones de letras tradicionales (A, B, C, D y F) se reemplazan con niveles progresivos, 1 a 4, lo que permite a los estudiantes y padres seguir el progreso hacia el dominio de los conceptos académicos clave, reflexionar sobre las fortalezas y áreas de mejora y identificar múltiples caminos hacia un aprendizaje más profundo. Los niveles no se traducen en calificaciones con letras. Por ejemplo, 4 NO es equivalente a A, 3 NO es equivalente a B, 2 NO es equivalente a C o D, y 1 ciertamente NO es una F. En cambio, los niveles muestran progreso hacia el dominio de los estándares del nivel de grado. La siguiente imagen ayudará a comprender mejor SBG.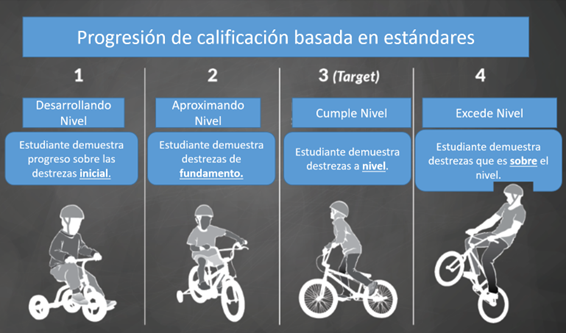 Consulte los siguientes documentos para conocer los estándares de informes a nivel de grado: