La Cosecha 2019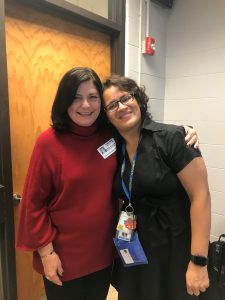 D89 educators attended La Cosecha Dual Language Conference in Albuquerque, New Mexico. La Cosecha 2019 brought together leading experts in the field of dual language education who presented the latest research, information, and instructional best practices as they relate to emerging bilinguals and biliteracy programs.
As the Dual Language program continues to expand throughout the district, the team sought to bring back the latest research and instructional practices to increase achievement for bilingual students. The team explored translanguaging, vocabulary strategies, technology integration, co-teaching structures and approaches to cross-linguistic connections.
The highlight of the visit included the recognition of one of our very own D89 teachers in front of educators from across the country. Dr. Kathy Escamilla, co-author of Biliteracy from the Start, recognized Veronica Lopez from Lincoln Elementary School during a pre-conference session. Dr. Escamilla complemented Mrs. Lopez's hospitality during a prior visit to the school and stated that the lesson she observed was "100% on target" and that "she was one of the most gifted teachers I have ever seen in terms of the way she engages kids".