Welcome to the 2020/2021 School Year!
About Mrs. Catherine Mayer
My name is Mrs. Mayer. I'm the librarian at Stevenson Middle School, and am here every day. Mrs. Baez is our second librarian who is here Wed., Thurs., and Fri.
Online Resources to help you perform your RESEARCH
Library Catalog  Follettt/Destiny – Find INCREDIBLE Books and resources you have in the library and online
Rebecca Caudill Nominees 2021 – Samples and summaries of the 20 nominated books
Click here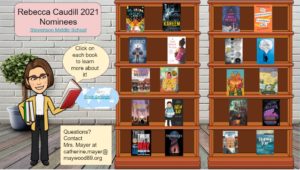 to choose books and find summaries/samples.
Chicago Tribune  Subscription to the Chicago Tribune Newspaper
Ordering Book Sets from the Van Buren Destiny System
---
Shop the Online Scholastic Book Fair
Go to the following link to visit the online store from November 8-21. http://www.scholastic.com/bf/stevensonmiddleschool11
Read About it