About Mrs. Catherine Mayer
My name is Mrs. Mayer and I'm the Library Media Specialist at Stevenson Middle School. I'm a certified teacher and have a masters in Library and Information Science. Along with Mrs. Baez, your library clerk, we are here to help you with all of your information needs including finding the perfect book to read, finding factual research, or presenting your information using awesome technology tools. Your library is open for business 5 days a week, with time before and after school too.
ALL SCHOOL READ – Treasure Island – Robert Louis Stevenson
Select vocabulary previews, chapters read in English by Principal Parker or in Spanish by Librarian Baez, Padlet       and Flipgrid exercises to share your favorite parts of the story or your prediction of what will happen next, and         take the Quiz to see how well you remember the story.  Go to the All School Read – Treasure Island Page       on the Right to access links to hear the story.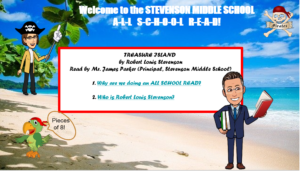 Library Catalog  Destiny – Find INCREDIBLE Books and resources you have in the library and online
     Username = your school email
     Password = your school ID
Looking to find the next book in the series?  Try this link
Juvenile Series and Sequels | Mid-Continent Public Library (mymcpl.org)
Rebecca Caudill Nominees 2021 – Click on the books to look at summaries or get samples.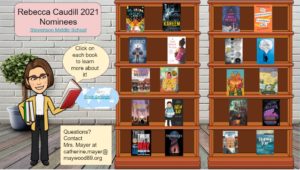 Chicago Tribune  Subscription to the Chicago Tribune Newspaper
Ordering Book Sets from the Van Buren Destiny System
---
Scholastic Book Fair - 2021 - ONLINE ONLY
Stevenson Middle School's Scholastic Book Fair is available Right Now! at the following website Published Homepage (scholastic.com) ...
Read About it